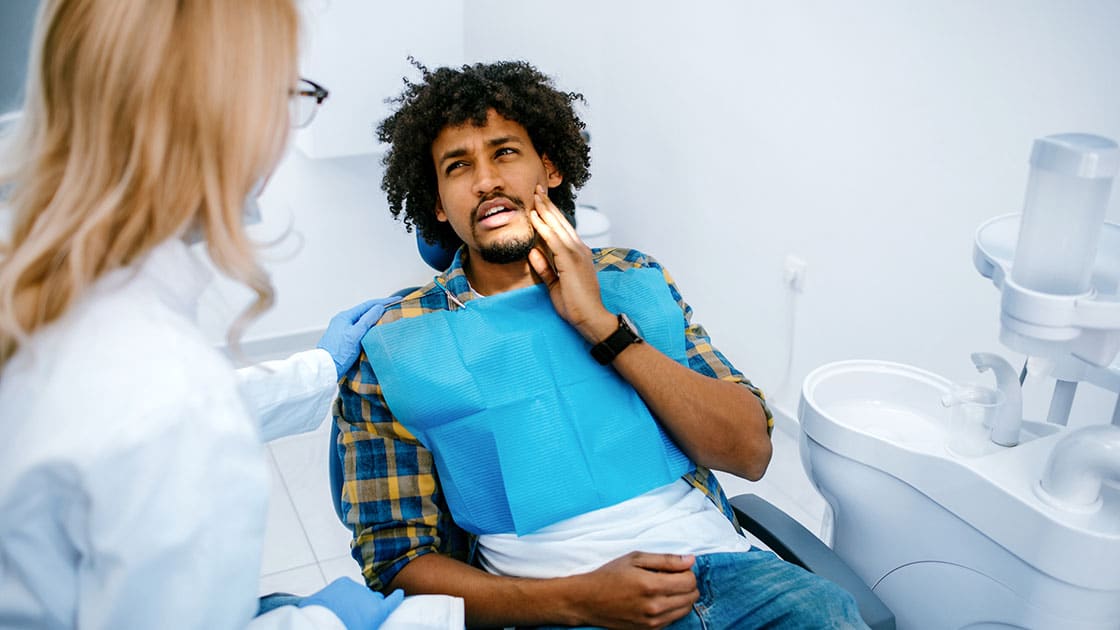 Springfield Healthy Smiles provides emergency dentistry in Springfield, VA. Call
703-866-7000
for urgent dental treatment.
What is Emergency Dentistry
Emergency dental care is needed for severe pain, injury or trauma to a tooth, dental restorations that fall out, and signs or symptoms of infection (swelling, bleeding). In most cases, when patients suspect they are suffering from a dental emergency, they are correct. Contact your dentist immediately, notify them of your emergency, and head to their office ASAP.
Types of Dental Emergencies
A toothache that develops gradually is typically not a dental emergency, but you should schedule an appointment as soon as possible.
Other types of tooth pain are deemed emergencies that should be treated immediately because they indicate an infection. These include:
Sharp shooting pain
New onset of sensitivity to hot, cold, sweet, or spicy food
Throbbing pain
Pain when biting into food
Pain when chewing
Pain that extends up your cheeks or down your neck
Injuries or trauma to the teeth are also dental emergencies. If you've been in a vehicular accident, you should be evaluated at an emergency room. However, if your injury is limited to the mouth and you are not bleeding excessively, seek treatment from a dentist. Injuries to the mouth that require emergency dental care include:
Broken tooth
Tooth that has split in half
Trauma  that has exposed the tooth root
Knocked out tooth
Other emergencies include swelling with no known cause, a filling that has fallen out, or a dental crown that has come off a tooth.
Emergency Dental Procedures Offered
The type of emergency care you'll need will depend on what caused the emergency. If you have a dental abscess or infected tooth, an emergency root canal may be necessary. If your tooth has broken above the gum line, the tooth may be able to be restored with a dental crown. Teeth that break below the gum line will need to be extracted by the dentist.
Swelling or bleeding caused by gum disease will be treated with scaling and root planing. You may also have antibiotic medication applied to the pockets of your gum. If your dental filling comes out, the tooth will be retreated. If you've lost a dental crown, you will receive a temporary crown until your new crown is ready for you. 
Below are instructions for handling minor dental emergencies.
In the case of a toothache...
Gently clean the area around the tooth by rinsing the mouth with warm water and gently flossing to remove any particles that may be lodged in the tissue around the tooth. If the pain continues, or if the area around the affected tooth is warm, please call our office to schedule an appointment.
If a lip, gum, cheek, or tongue gets cut...
Apply ice to help reduce swelling and apply pressure with a clean cloth or sterile gauze to stop any bleeding. If the bleeding continues, call your physician or visit your local emergency room.
If a baby tooth gets knocked out...
Please call our office to schedule an appointment.
If a permanent tooth gets knocked out...
Call our office right away and take these steps.
Do not touch the tooth root, but hold the tooth by the crown and gently rinse the tooth with water.
Place the tooth back into the socket as quickly as possible and bite down on clean gauze to hold it in place.
If the tooth cannot be placed in the socket, put the tooth in a small container of milk or saliva and bring it with you to your appointment.
If a tooth gets chipped or broken...
Gently rinse the area with lukewarm water and place a cold compress on the face to reduce swelling. If you can locate the piece of the broken tooth, place the piece in milk, and bring it with you to the office. If more than half of the tooth is broken off, please call us immediately.
Frequently Asked Questions About Dental Emergencies
Is a chipped tooth a dental emergency?
A small chip in a tooth is not a dental emergency, but you should have it repaired at your earliest convenience. Having a chipped tooth repaired is a painless procedure.
Is a clicking jaw a dental emergency?
Generally not. If it's clicking immediately following a fall, or other trauma to the jaw, contact us for instructions. If your jaw has begun clicking or popping for no reason, schedule a dental appointment as soon as it is convenient.
Will emergency dental treatment be covered by my insurance?
Most policies offer some coverage for dental emergencies. Our staff will be happy to file a claim for you. You will be responsible for treatments that insurance doesn't cover. However, we accept CareCredit financing, which allows you to pay off your treatment over time.
If you're suffering from uncontrolled bleeding go to your nearest emergency medical care facility. If you've suffered other dental emergencies, call us and we will prioritize your care. If you call after hours, follow the prompts on the message. Call
703-866-7000
to schedule an appointment.