How to Take Care of Dental Implants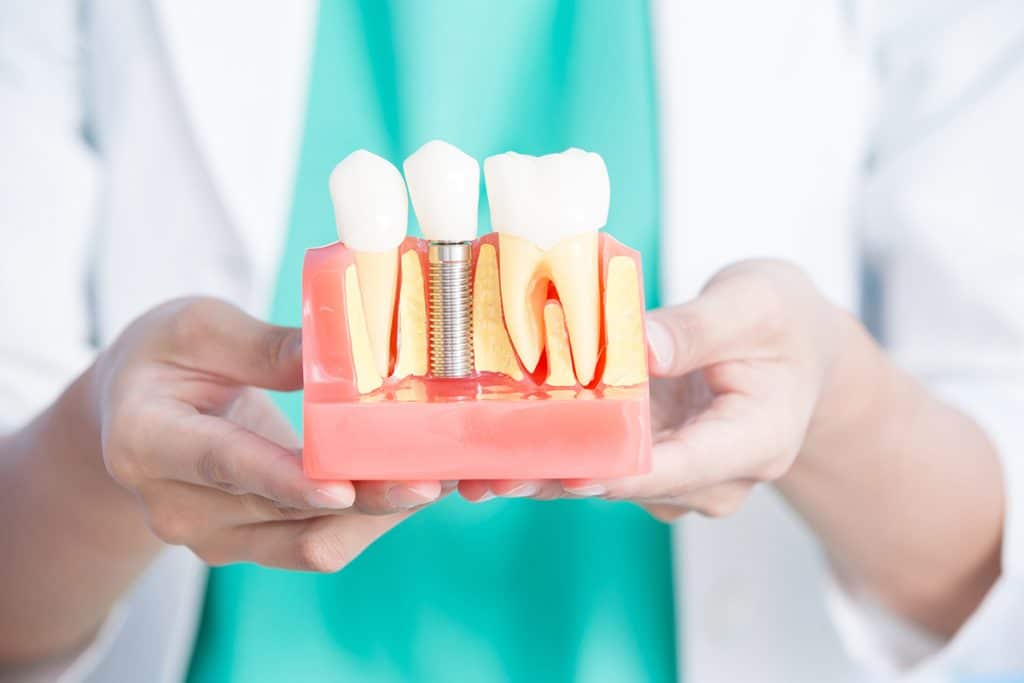 Dental implants are a great way to replace your missing teeth, and with proper care they can potentially last the rest of your life. However, even though implants aren't made of the same materials as your normal teeth, they can still fail overtime. Cavities can't develop in dental implants, but bacteria build up can cause the gums surrounding implants to loosen, which in turn can cause your implants to fall out.
As such, it is vital that you practice good oral hygiene habits to maintain both your natural teeth and your dental implants. Need a few suggestions to better take care of your dental implants? Learn from the dental experts at Springfield Healthy Smile to improve your oral hygiene and make your dental implants last for years to come:
Tip #1: Follow post-surgery recommendations
Dental implants can be inserted into your mouth after just a couple visits, but it is important that you allow your mouth time to adjust to your replacement teeth. While pain and discomfort will often fade quickly, full recovery time for dental implants can take up to six months. For the first week after surgery, it is highly recommended you only eat soft foods and mild liquids.
Furthermore, you should try to avoid the following for at least six months after dental implants, as the foods and liquids below are known to irritate gums and can damage implants:
Alcohol

Tobacco

Hot liquids

Spicy foods

Chewy foods

Sticky candies
Tip #2: Care for dental implants like normal teeth
Some patients are concerned about getting dental implants because of the belief that implants require special care. The truth is that implants should be maintained just like the rest of your teeth. By practicing good oral hygiene habits, you'll be able to maintain all of the teeth in your mouth, be it your natural teeth or your dental implants.
A few best habits to practice include the following:
Brushing at least twice daily

Flossing and using mouthwash at least once daily

Eating a healthy and balanced diet

Reducing your consumption of sugary and highly acidic foods and drinks
Tip #3: Get semi-annual cleanings and examinations
Prevention is often the best treatment in life, and catching issues early can save you time, money, and pain. It is highly recommended that you visit your dentist for a semi-annual teeth cleaning and examination. Even if they don't find any issues, your deep teeth cleaning will help rid your mouth of harmful bacteria that can lead to oral problems developing later on.
Semi-annual checkups will also allow dentists to perform examinations to see how your mouth is taking to your implants. If implants are starting to loosen, or if other problems are developing, your dentist can try to resolve the issue early and reduce the risk of your implants falling out.
Get dental implants from Springfield Healthy Smile
If you live in the Springfield, Virginia area, we hope you'll consider dental care from Springfield Healthy Smiles. We are an experienced dental office dedicated to family dentistry, be it helping children straighten their teeth through orthodontic services to helping adult patients with general, cosmetic, and restorative treatments.
Whatever your oral needs, we will do our best to help you have a happier and brighter smile. Contact us today to schedule an appointment, and we look forward to seeing you here at Springfield Healthy Smile!
Recent Posts
Contact Us
Springfield Healthy Smiles
8338 Traford Lane
Springfield, VA 22152
Monday | 8am - 5pm
Tuesday | 8am - 5pm
Wednesday | Closed
Thursday | 8am - 5pm
Friday | 8am - 5pm
Saturday | 8am - 2pm
Sunday | Closed